Halloween Costumes Seen on Screen
The Simpsons – Treehouse of Horror III 
This is one of The Simpsons' earliest  Treehouse of Horror specials – and perhaps one of the best!
Costumes included:
Homer as Julius Caesar
Bart as Alex DeLarge from A Clockwork Orange
Marge as an ancient Egyptian
Lisa as the Statue of Liberty
Milhouse as Radioactive Man
Ned Flanders as a headless zombie
Martin as Calliope, "the muse of heroic poetry"
The Big Bang Theory 
Ok, this may not be a Halloween episode (it's New Year), but it contains so many epic costumes it had to be included. In this ep. of The Big Bang Theory, the gang dress up as the Justice League, with no holds-barred.

Friends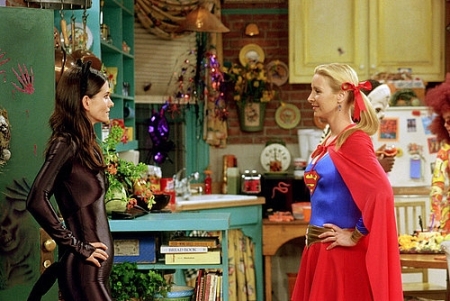 Ross is dressed as Sputnik (although most just think he's dressed as a "space doody"
Monica is  Catwoman
Phoebe is Supergirl
Mona (Ross' GF) is a nurse
Chandler is a pink bunny
Joey is dressed Chandler
Eric (Ursula's BF, played by Sean Penn) is the Solar System
Mean Girls 
Unbeknowst to Cady (Lindsay Lohan), Halloween is a time her new friends use to "dress like a total slut". In her naivety, Cady was under the impression it was to scare people and turns up as a zombie bride. You can imagine how that goes down when she enters the party, which features such costumes as an ex-wife, a sexy mouse and Playboy bunny.
E.T. The Extra Terrestrial 
Steven Spielberg's E.T. is a film that stands the test of time, and one that is just as enjoyable now as it was when it was first released in 1982. The trick or treating scene is one of the best. Watch and enjoy!