Let the Wild Rumpus Start …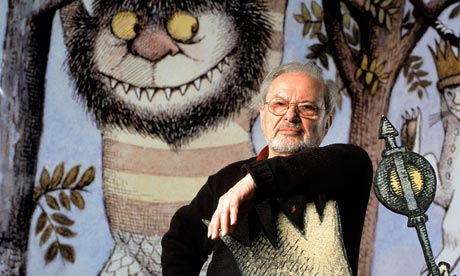 Today the news has come that author / illustrator, Maurice Sendak, who is most well known for Where the Wild Things Are passed away aged 83.
A lot of us, if not all of us will either had Where the Wild Things Are read to us as kids, or found it ourselves on the shelf in the school library.  I was introduced to it by 'borrowing' it from my older brother.
The cover with the not-that-scary monster with human feet sitting on an island with a boat in the background screamed ADVENTURE for me.
The thought of adventure, and the question: why does that monster have human feet? made me want to open the book to find out more.
What I remember about the book from when I was a kid was that Max put on his wolf-suit, got in trouble, ran away, ended up on an island, convinced the monsters there that he was the king and to play games, it all went a bit wrong, Max went home, and with a sad wave got back in his boat and said farewell to the wild things, and then, when he got home he didn't get into trouble.  (I do have a feeling that I may have totally ignored the words that Sendak wrote and made my own version up, telling it to which ever parent was on story-time that night)
When I watched the 2009 Spike Jonz Where the Wild Things Are movie adaptation the take out was pretty much the same – I was amazed watching the wild things rumpus-ing and interacting with an actual Max. (If you haven't seen it is is visually grand, and it was filmed here is Oz).
Last week finally got  to Dave Eggers' The Wild Things in my TBR pile and the adventures of that Max and those wild things got me thinking. It sent me off to have another read of Where the Wild Things Are, and now I love the book even more. The manifestation of the bits Max can't control and the journey of discovery and acceptance, the fact that we all have that stuff inside us and it does't make us a bad person … so, RIP Maurice Sendak, thank you for having the imagination to bring wild things to life, and inspiring so many of us in our lives.